Travelogue China
Originaly we had planned only to "transit" through China on our way from Germany to India (see map on the start page), but in the end we stayed there for almost 3 months! The first time we entered the country via the Torugart Pass from Kyrgyztan and the second time we came in from Vietnam. The following picture shows you our route: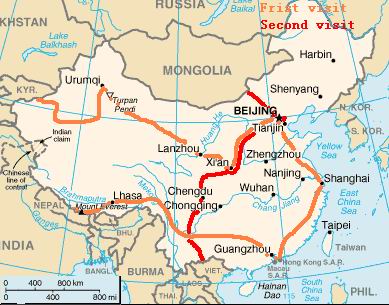 Our very first stop in China was in Kashgar. We were quite impressed by the town, the Chinese have build broad roads lined by ugly houses (white tiles and blue windows) and everything was clean. Our favorite location was the night food market in the center of town. Every evening hundreds of tabels appear and here you can find ceap and good food and very cheap cold beer!
Exept from the provincial capital Urümqi all places in Xinjiang province had a very Central Asian feeling for us, there are many Muslim people and nice old towns.
SOON TO BE CONTINUED!
If you have any questions, feel free to send us an email: SusiAndMario@away4fun.de!