Mongolia
Travelogue and Photos from our 4-week holiday
In summer 2004 Susi and I visited Mongolia on our way back home to Germany. Coincidentally we arrived in the right time to see the Naadam Festival which takes place every year from the 11th to the 12th of July in the capital Ulaan Baatar.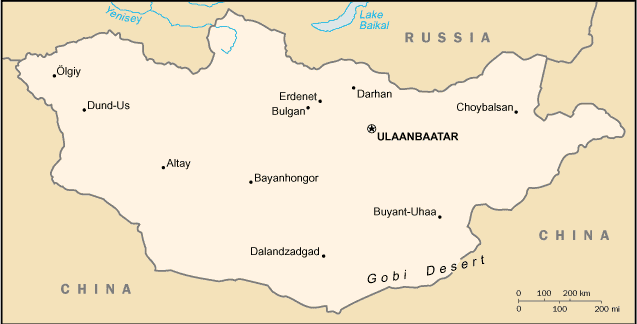 You can buy tourist tickets for 17,- US-Dollars for the opening ceremony, but we bought normal tickets for the opening and the closing ceremony in Chez Bernard Cafe in Ulaan Baatar for only 10.000 Tugrik (less than 10 US-Dollars) and had better places than a friend of us with a expensive tourist ticket. Our section in the stadion was no. 10, so we sat opposite of the VIP-section and for the opening we had the sun from behind - perfect for taking photos!
We also made a 16 day jeep tour to see something of the country. But Mongolia is so big and the roads (most of the time dirt tracks) a so poor, that it is impossible to see more than a couple of places. First we went to Khustai National Park to visit the wild Przewalski horses, then we continued to the beautiful lake Terkhiin Tsagan Nuur where you can do some horseback riding and make nice walks up the hills. From there we drove to the Gobi desert, visited the not too exiting Flaming Cliffs near Bayanzag (site of dinosaur excavations) and stayed one night at the Khongoriin Els sand dunes. On our way back to Ulaan Bataar we also visited Yolyn Am ice gorge, the mountain scenery here looks like in the Alps very nice!
We payed a total of 820 US-Dollars for the car incl. driver and petrol; additionally we payed our food, accomodation and the entrance fees. We were 4 persons in the Russian UAZ Jeep 69 (no problem) to share the costs and all in all we spend around 18,- Euro - very reasonable!!! Our touroperator was Nassans in Ulaan Bataar, we had some problems with the staff (not the driver!) so if possible find someone else or fix everything in advance on paper and check the provided equipment!
If you have any questions, feel free to send us an email: SusiAndMario@away4fun.de!
Here some photos from Mongolia:
| | |
| --- | --- |
| | |
| The landscape of Mongolia near Ulaan Bataar | The inside of a ger (Mongol name for yurt) |
| | |
| Mongolian national symbol on a ovoo (shamanistic collection of offerings to the gods) | Kids making fire wood in the night |
| | |
| A typical marketplace in a small village | Inside a Mongolian shop |
| | |
| Melking horses | A small village |